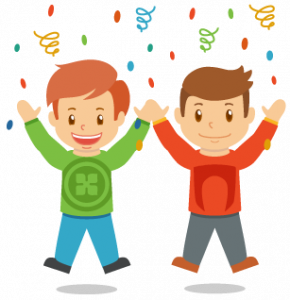 Een langverwachte wens van onze gebruikers en dan nu eindelijk beschikbaar: de koppeling met Basispoort! Deze koppeling zal zowel het gebruiksgemak voor leerkrachten en leerlingen vergroten én veel tijdwinst opleveren. We vertellen je in deze blog alles over de koppeling met Basispoort.
Inloggen in Oefenweb eenvoudiger
Nooit meer je agenda doorspitten op zoek naar je wachtwoord of leerlingen aan je bureau die hun inloggegevens voor Oefenweb zijn vergeten. Dankzij de koppeling met Basispoort heb je via je Basispoortaccount direct toegang tot onze oefenprogramma's. Maar niet alleen jij, ook je leerlingen kunnen via deze weg inloggen in Rekentuin, Taalzee en Words&Birds en dat is natuurlijk een stuk makkelijker!
Start de koppeling voor jouw school
Sta jij ook te popelen om deze nieuwe koppeling voor jullie school te gebruiken? Hij is nu beschikbaar! Via onze handleiding 'eerste keer gebruiken' vertellen we je hoe je de koppeling tussen Oefenweb en Basispoort in gang zet. Indien je al een gebruiker bent, zal er eenmalig door ons een koppeling gemaakt moeten worden. Binnen 2 werkdagen maken we dit voor je in orde.
Je bepaalt volledig zelf welke Oefenwebabonnementen er met Basispoort gekoppeld worden. Dit is eenvoudig te beheren. Je hoeft dus niet voor alle leerlingen op je school een Oefenwebabonnement af te sluiten, maar kunt voor het aantal abonnementen dat je hebt afgenomen een koppeling maken met Basispoort.
Let op: deze koppeling met Basispoort is onomkeerbaar en handmatig wijzigingen doorvoeren is niet meer mogelijk.
Nooit meer handmatig bijwerken
Zodra jullie Oefenwebabonnement en Basispoortaccount zijn gekoppeld, worden iedere nacht de gegevens automatisch bijgewerkt vanuit Basispoort naar Oefenweb. Dat scheelt jou weer nieuwe leerlingen handmatig invoeren of schoolklassen bijwerken. Ook voor het nieuwe schooljaar hoef je geen extra handelingen meer te doorlopen, jullie Oefenwebabonnement staat altijd klaar voor gebruik.
Ook vanuit huis beschikbaar
'Kan ik mijn leerlingen dan nog wel thuis laten oefenen met Oefenweb?'. Wees gerust, onze oefenprogramma's blijven ook vanuit huis gewoon beschikbaar! Inloggen met je oude Oefenweb inloggegevens kan namelijk nog steeds. Dus geef je leerlingen gerust Oefenweb als huiswerk mee!
Basispoort biedt ook een optie om thuis te werken, mocht je daar al gebruik van maken dan kan dat natuurlijk ook.